This page is designed especially for mobile devices in use on Sunday mornings.
Bulletin for Sunday, July 3
Current Series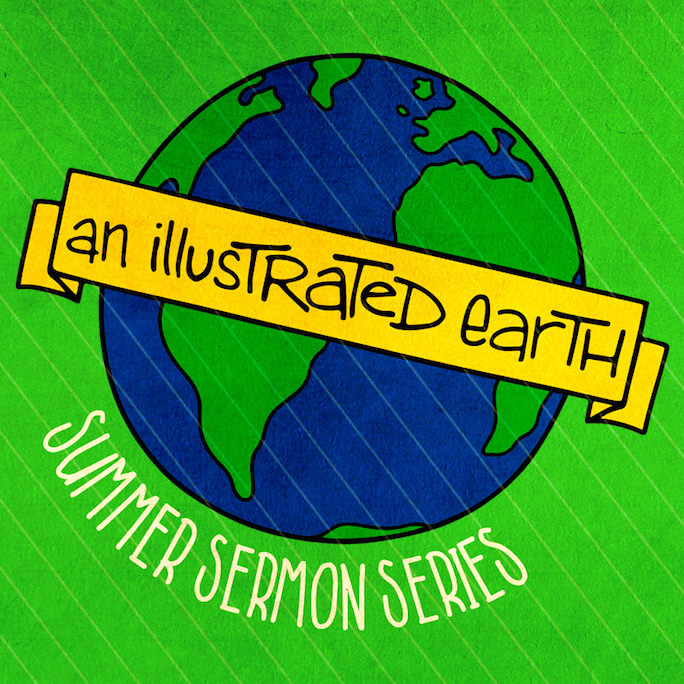 Exodus 16:2-5, 11-15, 21-27, 30-31 NRSV
2 The whole congregation of the Israelites complained against Moses and Aaron in the wilderness.  3 The Israelites said to them, "If only we had died by the hand of the LORD in the land of Egypt, when we sat by the fleshpots and ate our fill of bread; for you have brought us out into this wilderness to kill this whole assembly with hunger."  4 Then the LORD said to Moses, "I am going to rain bread from heaven for you, and each day the people shall go out and gather enough for that day. In that way I will test them, whether they will follow my instruction or not.  5 On the sixth day, when they prepare what they bring in, it will be twice as much as they gather on other days."
11 The LORD spoke to Moses and said,  12 "I have heard the complaining of the Israelites; say to them, 'At twilight you shall eat meat, and in the morning you shall have your fill of bread; then you shall know that I am the LORD your God.'"
13 In the evening quails came up and covered the camp; and in the morning there was a layer of dew around the camp.  14 When the layer of dew lifted, there on the surface of the wilderness was a fine flaky substance, as fine as frost on the ground.  15 When the Israelites saw it, they said to one another, "What is it?" For they did not know what it was. Moses said to them, "It is the bread that the LORD has given you to eat.
21 Morning by morning they gathered it, as much as each needed; but when the sun grew hot, it melted. 22 On the sixth day they gathered twice as much food, two omers apiece. When all the leaders of the congregation came and told Moses,  23 he said to them, "This is what the LORD has commanded: 'Tomorrow is a day of solemn rest, a holy sabbath to the LORD; bake what you want to bake and boil what you want to boil, and all that is left over put aside to be kept until morning.'"  24 So they put it aside until morning, as Moses commanded them; and it did not become foul, and there were no worms in it.  25 Moses said, "Eat it today, for today is a sabbath to the LORD; today you will not find it in the field.  26 Six days you shall gather it; but on the seventh day, which is a sabbath, there will be none."  27 On the seventh day some of the people went out to gather, and they found none.
30 So the people rested on the seventh day.  31 The house of Israel called it manna; it was like coriander seed, white, and the taste of it was like wafers made with honey.
Leader: The word of God for the People of God.
Everyone: Thanks be to God!
Memorial Service — Charles "Toby" Christian Harris
October 20, 1972 – June 30, 2016
A Memorial Service will be held at Transitions LifeCare (250 Hospice Circle, Raleigh, NC 27607), on Monday, July 4 at 4pm. Guests are asked to park behind the auditorium / administrative building and not in front of the Hospice Home. Following the memorial, everyone is welcome to the Harris household (1407 Laughridge Dr, Cary, NC 27511) for food and fellowship.
"Eat Out" Sunday
Pick one of the 5 restaurants below and head out after church on Sunday for lunch! It promises to be a great to chance to meet some new people and hang out with old friends.
DICKEY'S BBQ PIT — BBQ chain eatery featuring house-smoked meats, stuffed baked potatoes & classic sides. KIDS EAT FREE!! Located in Cary Crossroads at 200 Crossroads Blvd #100, Cary, NC 27518.
JASON'S DELI — Deli chain featuring piled-high sandwiches, a salad bar & health-conscious fare. Located in Cary Crossroads at 210 Crossroads Blvd, Cary, NC 27518.
CAFE CAROLINA — Panini, flatbreads & more for breakfast & brunch, as well as baked goods, in a simple, casual space. Located in Cameron Village at 401 Daniels St, Raleigh, NC 27605.
TIJUANA FLATS — Tex-Mex restaurant known for their extensive hot sauce bar & colorful, muraled walls.KIDS EAT FREE!! Located in the Shoppes at Kildaire: 1310 E Millbrook Rd, Raleigh, NC 27609.
TUPELO HONEY — An all-day menu of Southern comfort food with a creative twist, plus craft beers & cocktails. Located in Cameron Village at 425 Oberlin Rd, Raleigh, NC 27605.