Introduction
This resource guide is a collection of resources, insights, and perspectives that provide a starting point for a lifelong journey working toward anti-racism, equity, and restoration. The purpose of this guide is to encourage conversation, heart change, and action.
"It's time, Beloved. It's time to commit yourselves to learning. It's time to commit yourselves to speaking. It's time to commit yourselves to writing. It's time to commit yourselves to organizing. It's time to commit yourselves to preaching. It's time to commit yourselves to teaching. It's time to commit to understanding American history. It's time to commit yourselves to the work of racial justice. It's time to commit yourselves to love — whatever that looks like at the intersection of your giftedness and influence. But when I say love, I'm not talking meaningless, polite niceties. You can keep that. I'm talking about a love that takes risks. A love that requires sacrifice. A love that protests hate." Austin Channing Brown, Our Work Just Got Harder
If you would like to have a conversation concerning racial justice issues, you can contact us at [email protected].
STEP ONE
Watch and read these 4 short introductory videos and articles.
JANE ELLIOT
Anti-racism activist & educator Jane Elliot speaks to white citizens on receiving the same treatment as black citizens. [Video: 47 seconds]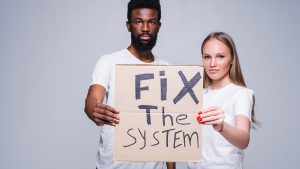 ARE YOU COMPLICIT IN SYSTEMIC RACISM?
Are You Complicit In Systemic Racism? Here's How To Change. John Rex, contributing writer at Forbes Magazine, discusses how having low levels of racism experience should not stop someone from speaking up. He lists four actions all white Americans can take to help collectively put an end to systemic racism. [Article: Approx. 3 min to read]
UNCOMFORTABLE CONVERSATIONS
WITH A BLACK MAN
Emmanuel Acho sits down to have an "uncomfortable conversation" with white America, in order to educate and inform on racism, system racism, social injustice, rioting & the hurt African Americans are feeling today. [Video: 9min 27sec]
THE ORIGIN OF RACE IN THE USA
How did Americans come to believe that race equals certain visible physical characteristics such as skin color and hair? And why is it that certain ethnic groups that were once considered "non-white" became reclassified as "white"? Watch the episode to find out. [Video: 10min 15sec]
There are eight sections. The sections do not need to be completed in order. However, the "Take Action" section will be more meaningful if preceded by the knowledge gained from the other sections. Each section includes 3 to 5 essential or highly-recommended resources, along with many other additional resources for those who want to go deeper.
Most importantly, as you work through and consider these resources, do so with humility. Resist the temptation to let certain words or perspectives with which you may not agree impede your journey. This isn't about coming to unanimous consensus, or about guilting or shaming. "The work of anti-racism is becoming a better human to other humans," states author Austin Channing Brown. She goes on to challenge, "Would you accept that invitation?"
1
A History of Racial Injustice
"To accept one's past—one's history—is not the same thing as drowning in it; it is learning how to use it. An invented past can never be used; it cracks and crumbles under the pressures of life like clay in a season of drought."
⏤ James Baldwin
2
Criminal Justice
"Since the nation's founding, African Americans repeatedly have been controlled through institutions such as slavery and Jim Crow, which appear to die, but then are reborn in new form, tailored to the needs and constraints of the time." — Michelle Alexander
3
Little Known History of Black Contributions
"We must never forget that Black History is American History. The achievements of African Americans have contributed to our nation's greatness."
— Yvette Clarke
4
Privilege and Bias
"Yes, racism looks like hate, but hate is just one manifestation. Privilege is another. Access is another. Ignorance is another. Apathy is another. And so on. So while I agree with people who say no one is born racist, it remains a powerful system that we're immediately born into."
— Scott Woods
5
Common Questions and Misconceptions About Race
"Do the best you can until you know better. Then when you know better, do better." — Maya Angelou
6
Black Experiences and Perspectives
"Radical empathy…means putting in the work to educate oneself and to listen with a humble heart to understand another's experience from their perspective, not as we imagine we would feel. ⏤ Isabel Wilkerson
7
Racism, Justice, and the Church
"Throughout the course of US history, when Christians had the opportunity to decisively oppose the racism in their midst, all too often, they chose silence. They chose passivity. The refusal to act in the midst of injustice is itself an act of injustice. Indifference to oppression perpetuates oppression." — Jemar Tisby
8
Take Action
"Nothing can stop the power of a committed and determined people to make a difference in our society." — John Lewis