This page is designed specifically for mobile devices in use on Sunday mornings.
Linda Kiener
April 5, 1968 – April 23, 2021
Pine Forest Memorial Gardens – May 1, 2021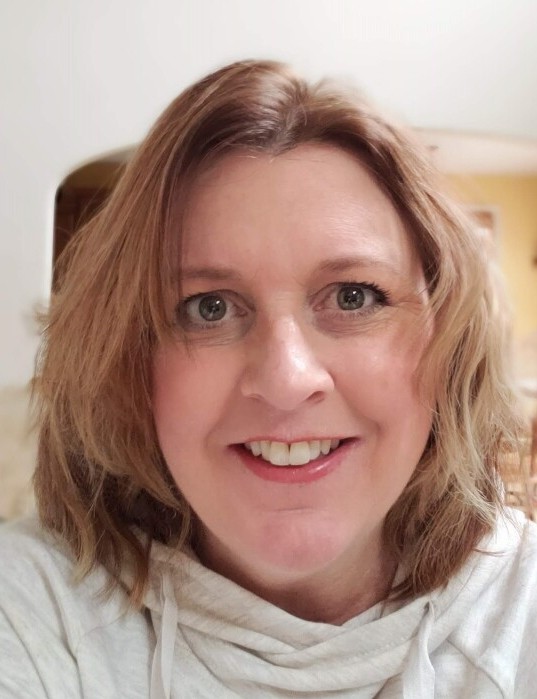 A Liturgy Before Mourning with those who Mourn
LEADER: O Christ Acquainted with All Our Griefs,
PEOPLE: prepare our hearts to enter now this space of grieving.
O God of All Comfort,
Lead us humbly into this place of heartbreak.
O Spirit Who Moves in the Midst of Our Sorrows,
Fill us with a right compassion.
Fill us with a right compassion that we would not cross this threshold armed with easy answers, but would enter instead bearing the balm of a divine tenderness best expressed in honest affirmations and small acts of service.
Teach us even in this hour, O Lord, how better to mourn with those who mourn, that their burden might in some way be made more bearable by our sharing in it.
So be present with us now in this wounded space, O Spirit of God. Let our presence be sensed as a token of your presence. Let our concern bear unspoken witness to the redemption your love will one day work, even unto the utter and unimaginably glorious reversal of this loss.
Now speak, act, and comfort, O Christ. Shepherd us into the sharing of this sorrow.
Prayer - Read by Pastor CJ
I REACH out to you, O Lord,
And all I touch is my own emptiness,
Air and silence and the memory
That this kind of prayer never works for me.
When I am most in need,
Prayer never seems to help.
It only strengthens my own helplessness.
In your own way, in your own time
You will answer. That I know, that
I remember. So once again I lean on
Patience. I wait. As before, there is
This waiting, this dread that I
Won't hold out. But I do, and
That is perhaps your answer.
We cannot stamp our feet or cry
And expect you to come running
We only say, "Into your hands, O Lord."
And there is peace, for you are faithful
If not prompt, and you will answer
When you will answer.
Amen.
Come Down O Love Divine
Come down, O love divine, seek Thou this soul of mine,
And visit it with Thine own ardor glowing.
O Comforter, draw near, within my heart appear,
And kindle it, Thy holy flame bestowing.
Let holy charity mine outward vesture be,
And lowliness become mine inner clothing;
True lowliness of heart, which takes the humbler part,
And o'er its own shortcomings weeps with loathing.
And so the yearning strong, with which the soul will long,
Shall far out-pass the power of human telling;
For none can guess its grace, till he become the place
Wherein the Holy Spirit makes His dwelling.
Responsive Scripture Reading
LEADER: Psalm 139. You have searched me, Lord, and you know
me. You know when I sit and when I rise; you perceive my thoughts
from afar. You discern my going out and my lying down; you are
familiar with all my ways.
EVERYONE: HEAR OUR PRAYER
Before a word is on my tongue you, Lord, know it completely.
You hem me in behind and before, and you lay your hand
upon me. Such knowledge is too wonderful for me, too lofty for me
to attain.
HEAR OUR PRAYER
Where can I go from your Spirit? Where can I flee from
your presence? If I go up to the heavens, you are there; if I make my
bed in the depths, you are there. If I rise on the wings of the dawn,
if I settle on the far side of the sea, even there your hand will guide
me, your right hand will hold me fast.
HEAR OUR PRAYER
Jn 14:1-3 "Do not let your hearts be troubled. You
believe in God; believe also in me. My Father's house has many
rooms; if that were not so, would I have told you that I am going
there to prepare a place for you? And if I go and prepare a place for
you, I will come back and take you to be with me that you also may
be where I am."
HEAR OUR PRAYER
1 Th 4:13-14. Brothers and sisters, we do not want you to
be uninformed about those who sleep in death, so that you do not
grieve like the rest of mankind, who have no hope. For we believe
that Jesus died and rose again, and so we believe that God will
bring with Jesus those who have fallen asleep in him.
HEAR OUR PRAYER
An Excerpt from: A Liturgy for Feasting with Friends
To gather joyfully is indeed a serious affair, for feasting and all enjoyment gratefully taken are, at their heart, acts of war.
In celebrating this feast we declare that evil and death, suffering and loss, sorrow and tears, will not have the final word. But the joy of fellowship, and the welcome and comfort of friends new and old, and the celebration of these blessings of food and drink and conversation and laughter are the true evidences of things eternal, and are the first fruits of that great glad joy that is to come and that will be unending.
So let our Feast this day be joined to those sure victories secured by Christ, let it be to us now a delight and a glad foretaste of his eternal Kingdom. Bless us, O Lord, in this feast.
Eulogy - Darian Kiener
Sharing Remembrances
A Liturgy of Praise to Christ Who Conquered Death
What once was lost, you have reclaimed.
What had been harmed, you will remake.
What was unwell, you now restore.
You make all things well!
Hear the word of the Lord: Since the children have flesh and blood, he too shared in their humanity so that by his death he might break the power of him who holds the power of death—that is, the devil—and free those who all their lives were held in slavery by their fear of death. —Hebrews 2:14–15
All praise to you, Lord Christ!
For it was your intention from creation's dawn, not only to make all things, but to make all things right. When your works were despoiled and wrecked by sin and death, you undertook to save and to reclaim what you had first made good. You entered into this—our space and time—to act on our behalf. You swallowed death for us, and by that act of willing sacrifice, you pushed death back upon itself, like the last lapping wave at the turning of the tide; that high water mark now fading, as death's dominion ebbs out for all time, its power to terrorize God's people forever destroyed by God's own passage through it.
Through death, O Lord, you gave us life!
You have made all things well, Eternal King!
You have made all things well, O Christ!
I Am Not Alone - Song Lyrics
When I walk through deep waters
I know that You will be with me
When I'm standing in the fire
I will not be overcome
Through the valley of the shadow
I will not fear
I am not alone
I am not alone
You will go before me
You will never leave me
In the midst of deep sorrow
I see Your light is breaking through
The dark of night will not overtake me
I am pressing into You
Lord, You fight my every battle
Oh, and I will not fear
I am not alone
I am not alone
You will go before me
You will never leave me
You amaze me, Redeem me
You call me as Your own
(repeat)
You're my strength
You're my defender
You're my refuge in the storm
Through these trials
You've always been faithful
You bring healing to my soul
I am not alone
I am not alone
You will go before me
You will never leave me
The Lord's Prayer
Our Father who art in heaven,
hallowed be thy name.
Thy kingdom come.
Thy will be done on earth as it is in heaven.
Give us this day our daily bread,
and forgive us our trespasses,
as we forgive those who trespass against us,
and lead us not into temptation,
but deliver us from evil.
For thine is the kingdom,
and the power, and the glory,
for ever and ever.
Amen.